Capsule FX Award winner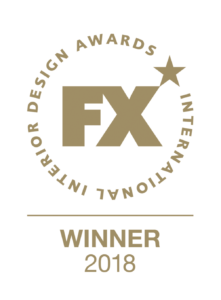 FX Awards
Winners of the FX Awards 2018 were announced on 28 November, celebrating world-class design excellence with a glamorous black tie ceremony in London. Each year there is a completely new panel of more than 20 judges from all disciplines, based on their authority, integrity and experience. The panel of distinguished experts are the very best from the design industry, including designers, architects, engineers and clients.
Capsule Award winner
Capsule is the winner of the FX International Interior Design Awards 'Product of the Year 2018'! We are very proud of this achievement! Kateryna Sokolova designed Capsule to offer a stylish solution to the increasing need for concentration and privacy in office environments. The form and function of the Capsule is inspired by a cocoon that guarantees security, comfort and innovation.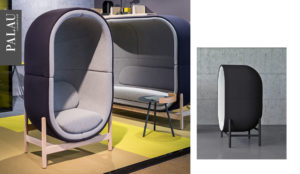 In large office spaces Capsule is a stylish object that creates privacy without being completely cut off from the surroundings. Here it is possible, for example, to make phone calls or to read without being disturbed. An additional advantage is that Capsule absorbs ambient noise, which benefits the acoustics in the space.
Capsule offers enough room for 1 to 3 people. The duo-upholstery, by which the inner and outer sides are made up of different upholstery, allows for virtually endless possibilities of combinations. This makes Capsule simple to integrate in both new and existing interiors. The stylish base of Capsule is an intelligent construction, by which no joins are visible. The construction is made of oak wood, combined with steel.
Designer Kateryna Sokolova
Ukrainian industrial designer Kateryna Sokolova was born in 1984.  She is co-founder and creative director of the brand NOOM and SOKOLOVA design studio. The design team is working in a wide range of disciplines: furniture, lighting, hardware, electronics, environment. Kateryna is a participant and winner of a lot of European design exhibitions and competitions, such as ELLE DECORATION Designer of the Year 2018.